divya music
Global School Of Music & Dance
Est. 2004
school of performing arts
SANGEET / SANGIT means Vocal music, Instrumental music and Dance, the Hindi language word 'SANGEET' or 'SANGIT' represents and incorporates three forms of performing arts : 'Gayan' (Vocal), 'Vadya sangeet' (Instrumental) and 'Nritya' (Dance). Divya music is a global school of performing arts - Sangit Vidyalaya, offering regular and online training programs in vocal music, Instumental music and dance.
Online Vocal Music
VOCAL SINGING LESSONS ONLINE : Indian vocal music - learning Hindustani classical vocal singing - Bhartiya shastriya gayaki, Light classical vocal singing - Bhartiya sugam sangit gayan, Carnatic / Karnatik vocal singing, Global / Western Vocal music and learning how to sing the Devotional songs like Bhajans, Spiritual chants, Sufi Songs, Rabindra Sangeet, Gurbani Shabad Kirtan, Indian Folk songs / Gazals / Indian Bollywood movie Hindi film songs / Western classical voice singing and popular vocal music on Skype / Google talk.
Global Dance Style
LEARNING CLASSICAL / FOLK / GLOBAL DANCE STYLES : Learning various dance forms like learning Indian Classical Dances online - including dance forms like Bharat Natyam, Manipuri, Kathak online, Kuchipudi, Mohiniyattam, Odissi, Sattriya, Kathakali dances online etc. Indian Folk / Tribal Dances including dance forms like Bihu, Garba, Bhangra, Gidda, Lavani, Kalbelia, Chhau dances online etc. and also Global / Western Dances including dance forms like Salsa, Hip-Hop, Ballet, Jazz, Tap dances online on Skype / Google Talk etc.

Music Instrument Training
MUSICAL INSTRUMENTS TRAINING
LESSONS ONLINE : Learning to Play
various genre - types of musical instruments including Indian musical instruments and the global / western musical instruments - Learning Percussion music instruments online incuding Tabla, Dhol, Dholak, Dholki, Damru, Nagara, Drum, Congo, Xylophone, Pakhawaj, Djembe, Mridangam, Ghatam etc.

Learning to play Wind musical instruments online including Flute, Shehnai, Bagpipe, Venu - Carnatic flute, Shakuhachi, Bansuri - Indian Bamboo Woodwind flute, Clarinet, Bassoon, Accordion, Piccolo, Saxophone and Mouth organ - Harmonica etc.

Learn playing String musical instruments online like Guitar, Sitar, Tanpura, Sarod, Santoor, Violin, Indian Violin, Veena, Carnatic Veena, Viola, Cello, Ektara, Dotara, Rabab, Tambura, Double Bass, Mandolin, Banjo and Harp etc. and

learning to play Key Electronic musical instruments online like Piano, Synthesizers, keyboards, Octapads, electronic Tanpura, Rhythm machines etc.

about
Divya Music : is one of the top rated music schools in India and in Delhi offering online vocal music - voice singing class lessons, online instrumental music class lessons and online dance class lessons on Skype and Google talk. Vocal music singing voice learning lessons, Instrumental music learning lessons and online dance learning lessons for beginners as a hobby and the music career courses for kids, children, young adults and university, college & school
students are offered by Divya Music with the highly experienced Indian music school faculty of the senior, famous vocal music teachers, instrumental music trainers and Indian dance gurus, top rated vocal music singing teachers , noted vocal musicians, best Instrument trainers, top rated dance trainers and the best Instrument music instructors in India. Divya Music sangeet vidyalaya offers the regular and online Hobby certificate level courses, diploma, graduation, post graduation and doctorate level music classes for above mentioned courses to learn the following genres in music and dance.
Admissions Open
Apply online for the limited seats available in Certificate & Diploma level music and dance online training programs.
Enroll Online Now
Enquiry Now
offering online classes
The regular classes and online Skype music and dance learning class lessons offered at Divya Music center are of 45 minutes duration and the Vocal music singing voice, Instrumental music and dance learning students learn basic - beginner, intermediate & advanced levels knowledge of vocal singing techniques online / musical Instruments playing techniques & dancing techniques online.
---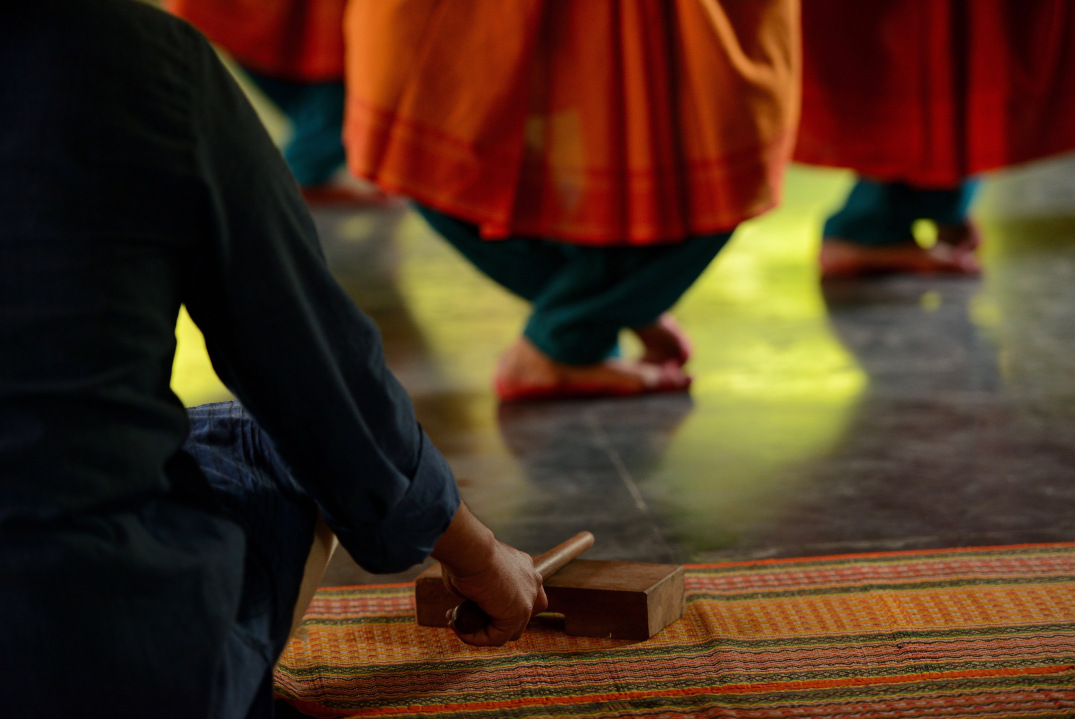 Experienced Teachers
The famous senior dance gurus at Divya school of dance teach the art and technique of various dance forms to the dance students in a non - competitive, dedicated and disciplined manner following the well-known, age old 'Guru - shishya parampara' (Gurukul Indian Teacher - disciple system). The finer dance gestures, finer finger dance movements and gross bodily dance movements, dancing steps, variable active rhythm, drama, dance expressions, graceful style, dancing posture, acting, devotion, dance moves and dancing 'mudras' - are all the very important in learning Indian Classical Dance styles. The energetic dance gestures, dance movements, dancing steps, high pitch rhythm, grace, dancing posture, warmth, attitudes and synchronized dance moves are all the very important in learning Indian Folk / Tribal Dances styles. The energetic dance movements, free style gestures, dancing steps, fast pitch rhythm, loud energetic music, dancing postures and synchronized / free style dance moves are all the very important in learning Popular Global / Western Dance styles.
The online light classical vocal music classes have become my habit, my passion and everything, I enjoy singing and practicing the sons based on ragas, my practice is going great. Thank you,

My friend living in Delhi suggested me to join Divya Music online classes to learn playing Indian flute, the 'Bansuri'. The experience of learning flute online with Indian flute guru, my online flute teacher has been excellent.

The online Violin learning hobby class is entertaining and a great learning experience. Thank you
Divya Music conducts online dance & music classes, lessons at home and classes at Divya Music center according to the convenient global time zones specially for the students living in
South America
, Africa,
Europe
, North America,
Asia
and Ocenia countries time zone. The live, real time, interactive classes conducted between 7 AM to 9 PM India time as one-on-one private dance & music classes correspond to the best convenient time schedules for international students from countries including
USA
, Canada,
United Kingdom
, Mexico,
Brazil
, France,
Germany
, Mauritius,
Belgium
, Kuwait, UAE,
Saudi Arabia
, Kenya,
Fiji
,
Thailand, New Zealand,
Australia, Malaysia,
Spain, Singapore,
South Africa, Philippines,
Indonesia
, Oman,
Bahrain
, Qatar, China,
Russia
, Netherlands,
Japan
, Italy and many more.
join us today
---